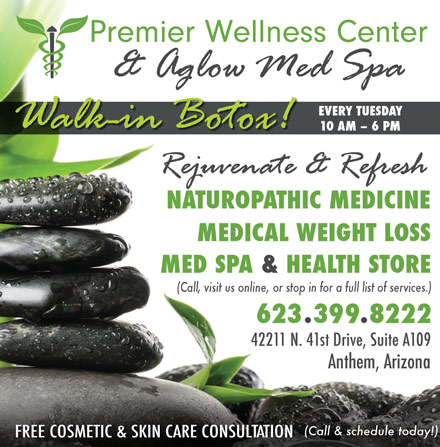 42211 N 41st Drive, Suite A109,
Anthem, AZ 85086
Open Monday – Friday, 10AM – 6PM
Welcome to Premier Wellness Center & Aglow Med Spa, an integrative medical practice where our goal is to help each patient feel and look their best by focusing on the whole person, encompassing inner wellness & outer beauty.  Premier Wellness Center is located in beautiful Anthem, Arizona and serves Anthem, New River, Desert Hills, Tramonto, Sonoran Foothills, Cave Creek, Carefree, Happy Valley, Glendale, Scottsdale, Prescott, Black Canyon City,  North Valley and Phoenix areas.
Our specially trained medical staff offer a large variety of services including Naturopathic Medicine, diagnosis & treatment of acute & chronic conditions, Medical Skin Care Services, Cosmetic Dermatology, Weight Management, Non-Surgical Facial Rejuvenation, Liquid Facelifts, Anti-Aging, IV Therapies, Laser Hair Removal, Vitamin Injections, Detoxification, Hormone Testing, Nutrition, Dermapen, Botox, Juvederm, Voluma, Belotero, Radiesse, Xeomin, Bellafill, Perlane, Restylane, & Sculptra.
At Premier Wellness Center our Naturopathic Physicians provide medical care with an emphasis on diagnosis, treatment, and prevention of illness allowing our patients to achieve optimal health through therapeutic methods which encourage a person's inherent self-healing process. Our physicians identify and treat the cause of illness rather than merely eliminate or suppress symptoms. We recognize that illness does not occur without cause.  Causes may originate in many areas. We focus on identifying these underlying causes thus enabling recovery to occur.
Our Medical Spa offers a large variety of non-surgical and minimally invasive solutions to help you feel confident, youthful and refreshed by utilizing the latest technology in aesthetic rejuvenation. Some of these services include Botox, dermal fillers, Juvederm, Voluma, Radiesse, Belotero, Xeomin, Bellafill, medical grade peels, Dermaplaning and microdermabrasion treatments. Find out how you can look and feel your best by scheduling a complementary cosmetic/aesthetic service consultation.
Premier Wellness Center also offers a variety of Medically Supervised Weight Loss Programs.  These programs are individualized to meet your specific weight loss goals.  Each person is treated as an individual and many aspects are considered before selecting your appropriate weight loss program. Our weight loss programs include HCG, appetite suppressants, fat burning injections, and a variety of nutrition plans.