Walk-In Botox every Wednesday $7.99/unit
(Reg. $8.99/unit – No minimums required.) Walk-In B12 or B12/MIC injections available every Wednesday for $10.
Pain-Free Laser Hair Removal with the Alma Soprano Ice Laser: Treatments starting at $50 per session. Buy a package of 5 treatments, get the 6th treatment FREE plus all laser treatments are 50% off on same area after the 6th treatment. Discount bundle package pricing available.
July Specials:
Stay Cool, Hydrated & Lifted with a CooLifting Treatment.
Stand Alone Treatment:  $89
Combined with any other facial treatment: $69
CooLifting is a 5 minute Cryo-Facial treatment that delivers fine line and wrinkle reduction along with an immediate lifting of the skin with no pain, no downtime & immediate results.
This revolutionary patented system delivers simultaneous combination of CO2 with a proprietary HA serum to renew the skin's surface.
Patients notice immediate improvement in wrinkle reduction, increased hydration, skin radiance, and overall lifting of the skin.
CooLifting treatments leave skin looking and feeling tighter and firmer. The proprietary HA gel infused with CO2 increases skin hydration and improves the appearance of fine lines. Results can be seen immediately!!!
Eclipse PRP with C-Pin Micro-Needling $350
Includes face, neck & chest with PRP.
Combining micro-needling with PRP (platelet rich plasma) "supercharges" treatment benefits, reduces, downtime, and enhances clinical results.
PRP is obtained by drawing and spinning your own blood in order to extract the platelets.  These platelets are rich in stem cells, nutrients and growth factors.
Also, now offering PRP treatments for hair restoration. FREE CONSULTATIONS on hair restoration with PRP treatments. Call Premier Wellness to schedule at 623-399-8222.
Phantom Facial $79 (Reg. $149, Save $70!)
This treatment incorporates a unique LED "Phantom" light therapy face mask along with a multi-step anti-aging or anti-acne facial that invigorates skin and stimulates collagen.
Reveal your inner "Hollywood Glow" and book a Phantom Facial today at 623-399-8222
Got Skin Tags, Cherry Angiomas, Broken Capillaries, Milia or other skin irregularities?
Treat them with Skin Classic:
1-2 lesions: $25
3-5 lesions: $50
6-8 lesions: $75
9-12 lesions: $100
13 or more: $8.00 each
Spice Things up with ThermiVa Non-Surgical Vaginal Rejuvenation: $1000 for single treatment or $2800 for a package of 3 treatments. (Protocol is 3 treatments spaced 4 weeks apart.) Lunch-Time procedure, no down-time, no "night off", immediate results. Husband Approved & Pain-Free!
 ********
There are some exciting new services now being offered at Premier Wellness Center. Including our newly expanded Women's Health Care Services with our newest provider, Ann Marie D'Onofrio, WHNP-C, MSN. Ann Marie is a Board Certified Women's Health Nurse Practitioner (WHNP-C) and a longtime resident of Anthem. She holds a Master of Science in Nursing (MSN) from the University of Pennsylvania where she graduated summa cum laude.
Now offering the Feminine Rejuvenation Shot.  Free Consultations with our Women's Health Care Nurse Practitioner Ann Marie.
Medically Supervised Weight Loss Programs:
New Patient Weight Loss Visit:  $125 Includes customized weight loss plan, medical evaluation, fat burning injection & written appetite suppressant prescription if appropriate.
Follow Up Weight Loss Visits: $75 Includes follow up medical evaluation, review of diet diary, fat burning injection & written prescription refills when appropriate.
 Our weight loss programs are customized to each individual patient. At Premier Wellness Center we realize that each person is unique and many factors are considered before our medical team makes the appropriate weight loss recommendations. When necessary and appropriate our medical providers may augment your customized program with prescription appetite suppressants.
Newly Expanded Women's Health Care Services:
Now Offering Well Woman Visits with Board Certified Women's Health Care Nurse Practitioner.
Comprehensive and Holistic Approach to overall Women's Health and Wellness. Ann Marie takes the time to really "listen" and determine the root cause of symptoms.
New Patient & Annual Visits: $175
Follow Up Visits within Same Calendar Year: $75
 *******
 Now offering the latest Hollywood Beauty Trend, "The Phantom Facial". This new facial beauty trend features a futuristic appearing LED-light therapy face mask. This treatment became a "Hollywood Favorite" after Jessica Alba sent Instagram into a frenzy when she posted a selfie while having the treatment done.  
This treatment incorporates a unique LED "Phantom" light therapy mask along with a multi-step anti-aging or anti-acne facial that invigorates skin & stimulates collagen to reveal a "Hollywood Glow".
Dermal Filler Promotions:
Now Offering Vollure XC: The newest filler in the Allergan line of products. 
Take advantage of the Brilliant Way to Save on Vollure with the following rebate offers:
Buy a syringe of Vollure and save:
$100 when treated with 1 additional Allergan Product
$200 when treated with 2 additional Allergan Products
$400 when treated with 3 additional Allergan Products
(Additional products include Botox, Volbella, Voluma, Juvederm or Kybella. )
Limit one rebate per person. All treatments must occur during same visit. Can be combined with BD Coupons for even greater savings. Rebates are limited and available on first come, first serve basis. Must mention rebate at time of scheduling and during appointment to qualify for rebate.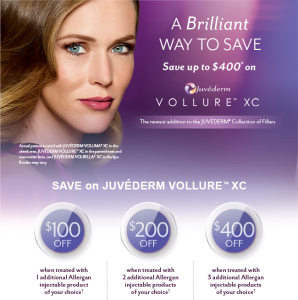 Now Offering Volbella A brand new filler for natural appearing results in the lips and around the mouth. Volbella is the latest advancement in facial fillers manufactured by Allergan. Volbella is developed specifically for the lips and around the mouth area. It is a super smooth gel that is injected using an ultra-fine needle. It has been specifically developed as a smooth gel to give a soft, subtle, natural feel. Results can last up to one year.
Mix, Match & Save on Dermal Fillers, Multi-Syringe Discount Pricing on Dermal Fillers when you receive multiple syringes during a single office visit:

VOLBELLA XC:  $250

JUVEDERM ULTRA PLUS XC: $350

VOLUMA XC: $500

Vollure XC: $450

* Must buy a minimum of 2 or more dermal filler syringes to qualify for multi-syringe pricing. Multi-Syringe discount can be any combination of the above fillers. All syringes purchased using the multi-syringe discount pricing must administered to same patient during same visit. Cannot break up syringes into multiple visits, cannot bank fillers or pre-purchase fillers.
IPL PHOTOFACIAL WITH ALMA HARMONY DYE-VL LASER: Award winning IPL technology. The next generation in skin rejuvenation. Eliminate sun spots, age spots, broken capillaries and pigmentation.
FACE: $99; FACE & NECK: $149; FACE, NECK, & CHEST: $199; HANDS; $49
Now Open Every Saturday: Now offering injectable services every Saturday. Call to schedule your Botox, B12, B12/MIC, or Dermal Filler treatments.  Myers' Cocktail IVs $95 & Microneedling CPIN treatments with PRP also available on every Saturday. 
B12 or B12/MIC Injections : $20 each. Increase energy, boost metabolism, burn fat.
B12 or B12/MIC with B- Complex Injections: $25
WALK-IN WEDNESDAY B12 PROMOTION DAY:  B12 OR B12/MIC INJECTIONS JUST $10 EVERY WEDNESDAY DURING OUR WALK-IN HOURS (10AM-NOON & 1PM-6PM EVERY WEDNESDAY)  B12/MIC/B-COMPLEX INJECTIONS $15 ON WEDNESDAY (REGULAR $25)
Pain-Free laser hair removal with the Alma Soprano Ice Laser:
Lip/chin:  $50
Under arms: $50
Lower Legs: $75
Bikini: $50
Brazilian: $75
Pre-pay for 5 treatments, get 6th treatment for FREE.
Now offering PRP Hair Loss Treatments
Now Offering Eclipse PRP Hair Restoration Treatments
Platelet Rich Plasma Hair Treatment is the latest innovation in hair restoration.
Treats thinning hair and hair loss in men and women using the body's own platelets.
FREE CONSULTATIONS
Now Offering "Perk" a new hybrid treatment system by the manufacturer of HydraFacial. Perk is the first hybrid skin care system that combines cutting-edge technology with proven effective ingredients to exfoliate, nourish and revive skin in as little as 10 minutes with no downtime and immediate visible results. It is the first treatment of its kind that merges an in-office treatment with take-home products to enhance skin benefits. Clients get immediate results with long lasting benefits that fit perfectly into daily life.
The Perks:
Face Service: Great as a stand-alone or pre-treatment procedure. Exfoliates and nourishes skin with potent antioxidants for a gorgeous glow. $49
Lip Service: Get perfectly primed and lightly plumped lips. Treatment locks in moisture to reveal a perfect pout. Key ingredients include peppermint oil and peony extract. In addition to the roller ball serum, the lip service also includes an additional take home maintenance lip balm. $29
Eye Service: Brightens and awakens the delicate eye area with energizing green tea extract and citric acid. Includes take home roller ball serum and an eye mask. $39
 Botox on a Budget – Walk-In Wednesdays: $7.99 per unit! No minimums required.
Botox $7.99 per unit all day every Wednesday. (Regular price $8.99 per unit.)  Walk-Ins Welcome feel free to call ahead to see if there is a wait time for walk-in clients. 623-399-8222